Jewelry and Lingerie Armoire
This commissioned piece was built to match an existing suite in a clients master bedroom.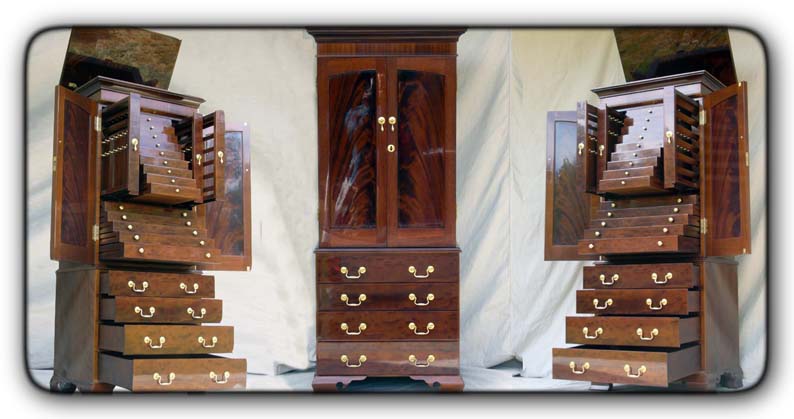 With a foundation of solid Mahogany, Sapelle veneer was applied to the case sides and upper molding stack, grain matched Mottled Makore veneer was applied across all drawers and pullouts, and grain matched Mahogany Crotch Veneer was applied to the doors and lid.
Click on thumbnail images for larger versions
In addition to the 4 lingerie drawers in the lower section, there are 14 jewelry drawers, and four jewelry pullouts above.Two pullouts were designed and built to accommodate the clients desire to store matching Necklace, Bracelet, and earring sets.One pullout was devoted to storing just earrings. And one pullout was devoted to Necklaces and Bracelets.
All fourteen jewelry drawers were fitted with unique partitions made from solid Bubinga. The drawers, as well as the compartment under the lid, were all lined with velvet.
Unable to locate suitable commercial hardware to support the lid, a custom hand-made support was fabricated from solid brass stock.
To satisfy their interest in the actual construction process of this piece, the client requested a documented pictorial. The resultant 200+ annotated slide show is available for viewing by clicking the thumbnail below.
Note, the slideshow will open in a NEW WINDOW. When done viewing the slideshow, simply close the new window to return here.