Pull-out Spice Cabinet
While working on two other pieces for this kitchen, the topic of the 'mostly useless' filler cabinet next to the refrigerator came up. The cabinet was set back in from the front of the fridge by over a foot. It was barely a foot wide, the door was only 9" wide, and the actual opening into the cabinet was a mere 8" wide. It was being used to store brooms and a folding stool...about the only items that would fit in such a confined space.
We were asked if we had any ideas that would make better use of this space. Here's what we came up with.
Here's the cabinet in the shop. It sure IS narrow!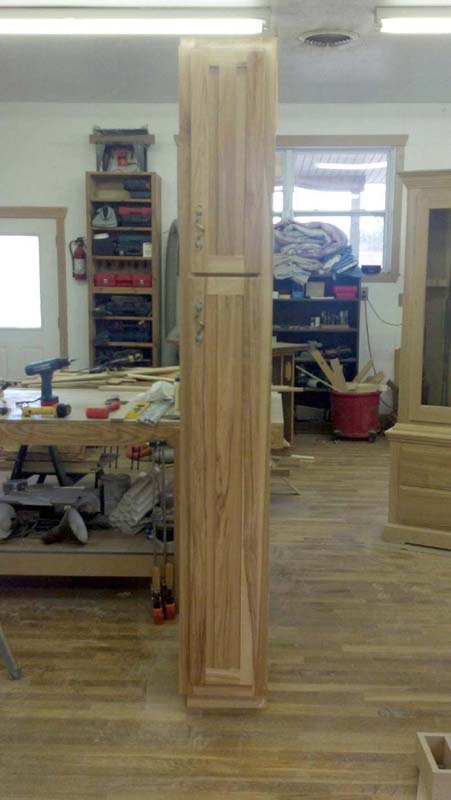 We removed the lower door and constructed a pull-out spice rack to fit inside the opening. To minimize wood movement, and insure it could handle whatever weight it had to, 3/4" baltic birch plywood was used.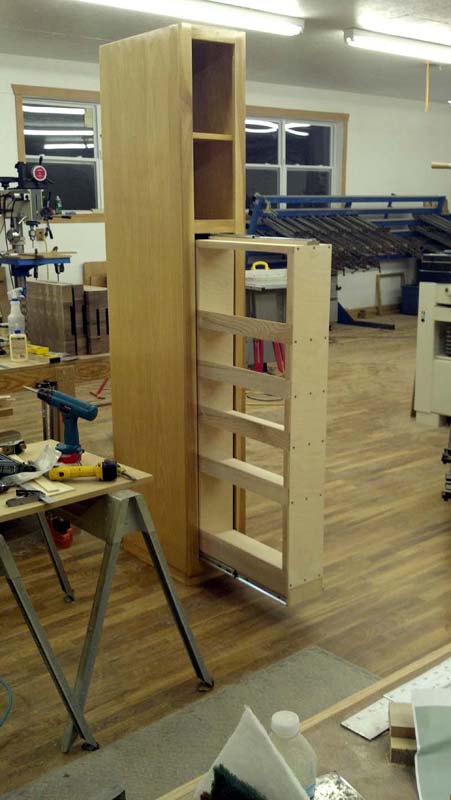 The plywood was faced with solid oak, stained to match the rest of the cabinet, and sprayed with several coats of lacquer. The door was mounted to the front of the pull-out and the project was ready for delivery.
Here's the finished project, installed and filled.
When we re-installed the cabinet, we didn't set it back in from the refrigerator like it was. We mounted it flush, to make it easier to access all the spice bottles, even those way in the back.