Butcher Block topped Kitchen Island with Mixer Lift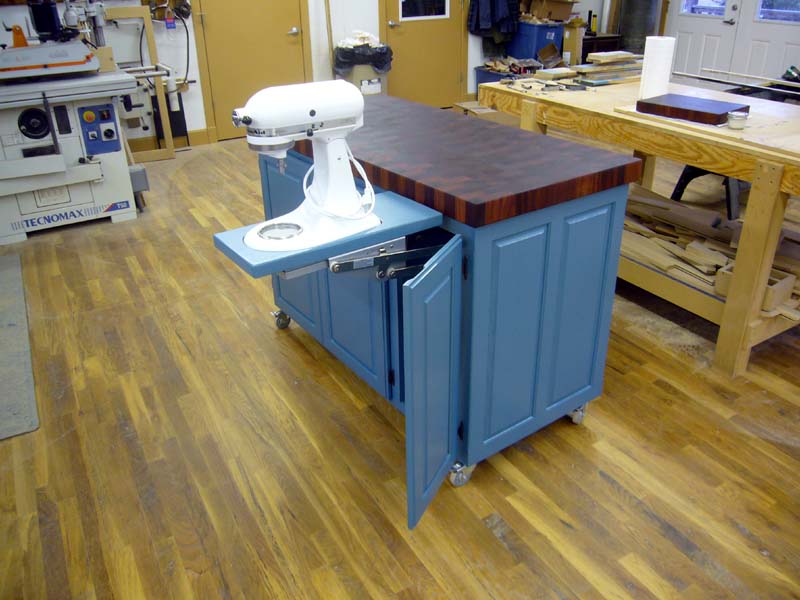 This kitchen island/cart was built to match a kitchen for a local couple. After discussing several design ideas and elements, CAD drawings of the proposed island were submitted and approved.
Here's the clients new island in "raw" form, a stack of white oak for the cabinet and doors, and a stack of African Mahogany for the butcher block top: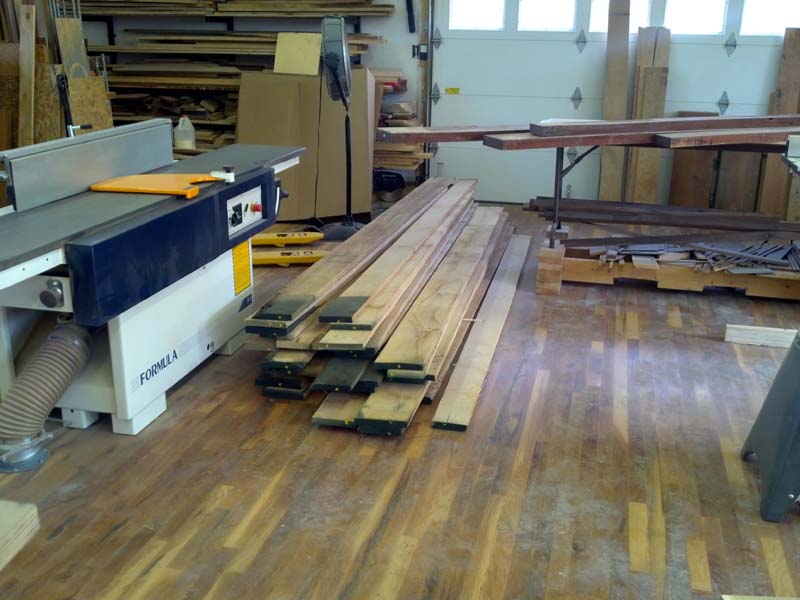 Strips of African Mahogany for the butcher block top were milled and set up in clamps for gluing.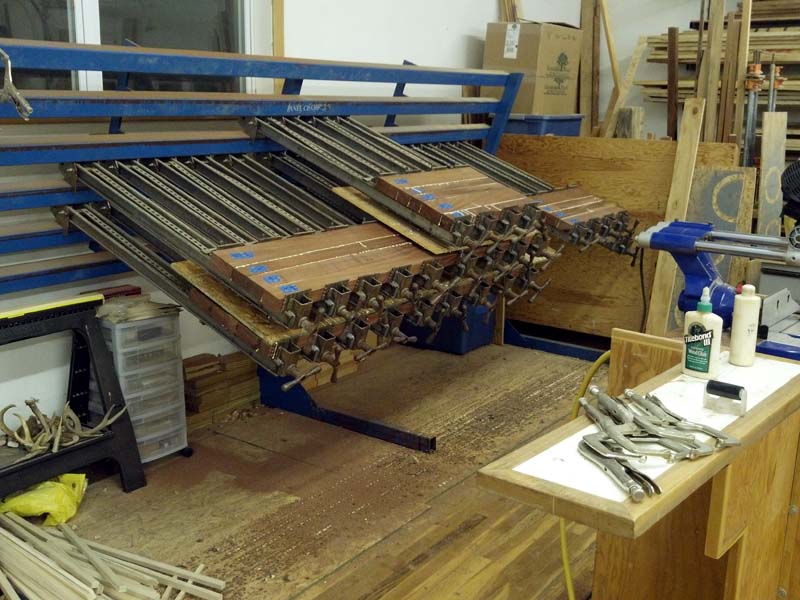 Parts for the doors and end panels were milled, and assembly began.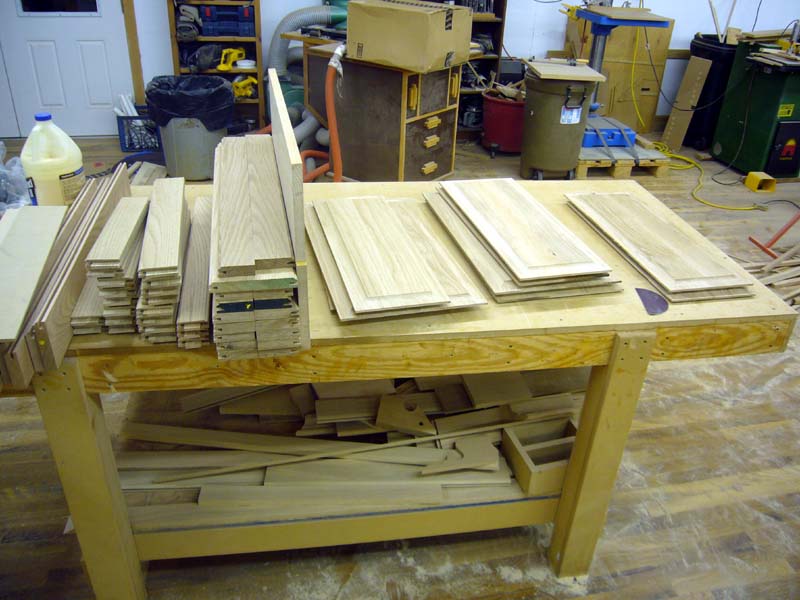 End panels were mounted on to both ends of the cabinet.
Assembled, but still oversized, doors were clamped in place, ready for clients selection of hinge style.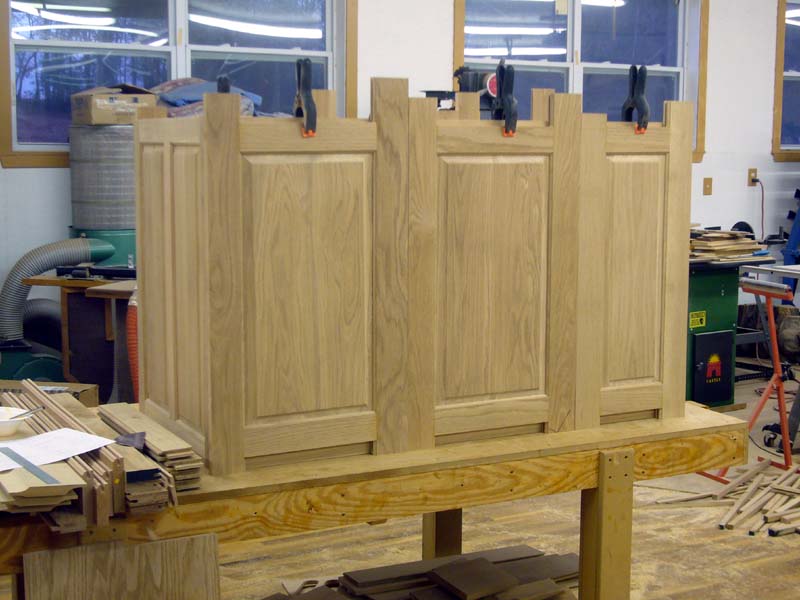 On to the final glue-up of butcher block top.
Left in the clamps overnight, the top is ready for clean up. Excess glue squeeze out is hand scraped, then the top is sent through the wide belt sander for flattening and smoothing.

While I moved on to building and mounting the mixer lift, the 'expert paint crew" was brought in to match the clients 20+ year old blue cabinets. After a dozen or so "really really close" matches, they finally hit it! Three parts each of two different shades of blue base, one part each of two different shades of gray, and one part fire engine red. It was an odd formula, but it worked great. I guess that's why they're the experts!


Back to the mixer lift...
A 1 1/4" thick white oak lamination was glued up to serve as the shelf for the mixer. The actual mechanism was then mounted in the cabinet. The base of the clients mixer was traced onto the shelf which was then routed to create a 3/8" deep recess to hold the mixer in place.
With all construction and color matching done, it was time to spray on the blue latex flat paint. That was followed by four coats of a water based polyurethane top coat.
Machine bolts inserted through oversized holes in cross braces will secure the top to the cabinet. To accomplish this, the finished top was drilled to accept threaded brass inserts.
With the inserts in place, it was time to see what the top was going to look like. Here, Denise applies the first of three coats of food-safe mineral oil. WOW! I'm still surprised every time I see the first coat of oil applied!
Final (re-)assembly is done. The mixer lift and shelf are mounted, then the hinges and doors are mounted.
Here's the project done and ready for delivery.
Oh yeah, a pair of independently adjustable shelves were also built and installed in the large storage area of the cabinet.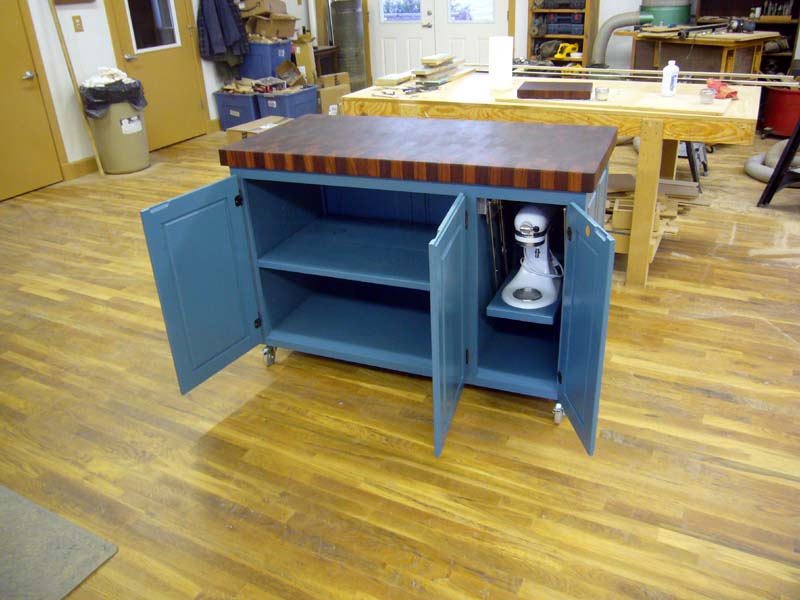 And finally, here's the island in its new home.